We scored draw with the Židovice football team
26.6.2015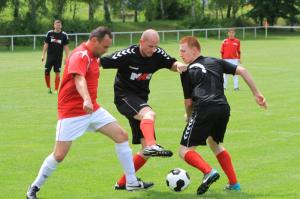 Sports fan from the Židovice village, where our technology centre is based, had a chance to see an incredibly captivating football match. Our team played the household squad in an exhibition that finished with a result more fitting for ice-hockey, a 5:5 draw.
"We thought it was a fantastic idea to arrange a fun afternoon for the public and particularly for the local inhabitants who normally have the chance to watch us during testing and in races. This was an opportunity to show them our technology closely and in a relaxed atmosphere," explained our team's manager Klára Kress the reason for organizing the event.
The afternoon started with a football kick-off and the exhibition match brought a number of diverse, yet attractive, moments. At some points the performances reminded one of the Champions' League finals, though sometimes the match looked more like a comedy movie. The first point was scored by the domestic team who beat the goal guarded by our team's boss Mario Kress. It took only a few more moments and our team was losing 2 :0. However, the squad of world-recognized technicians and mechanics who build Dakar specials for a living managed to first lower and then equalize the score. Only at the very end the Židovice team added another goal and took the lead. Fortunately, we used the two dramatic minutes of extra time to reach the final 5 :5 result. "We didn't go to the dressing room with our heads down only thanks to the power play at the end, benevolence of the professionals here and the referee's relentless effort, " smiled the mechanic Milan Kruncl, also an author of one of the goals.
The exhibition match event between SK Židovice and MKR Technology included a pork feast and evening entertainment programme. The children could rollick in an inflatable castle and also the Dakar trucks were presented together with the facilities our team uses during the world's toughest rally. "It was real fun and the important thing is everyone had a good time. After all, we finished late at night," added Klára Kress with content.