Trucks from MKR Technology got points in the French championship
8.5.2022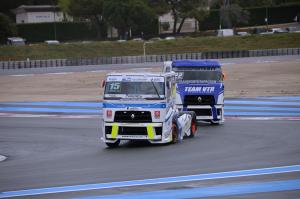 MKR Technology is back on the racing circuit. This year, the North Bohemian designer Mario Kress and his team of technicians prepared three Renault Trucks for the French Truck Racing Championship. The first race weekend in France also brought the first podium for the Portuguese pilot José Sousa.
Mario Kress' team of designers will regularly participate in the French Truck Racing Circuit Championship. Mario's team took a hiatus of several years from circuit racing and filled this break with Dakar and long-distance rally racing. Three Renault pilots - French drivers Pierre-Yves James from Team 14 and Lucas Rivals from Albi Motor Racing and Portuguese José Sousa from Team VTR will take part in the circuit. It was the third named who managed to make it to the podium this weekend. "The first race weekend was definitely not a walk in the park. The weather in France was extremely unfavorable and the rain strongly affected the whole course of the race. But I think that our team did a great job, " summed up the designer Mario Kress.
The Castellet Grand Prix took place on the legendary Paul Ricard circuit. Four races, as usual, were waiting for the drivers during the race weekend. In the opening races, pilot Lucas Rivals finished fifth, in the following test he took seventh place and in the third race he finished just below the podium on fourth position. Portuguese pilot José Sousa shone in the last race. Pierre-Yves James stayed in the top 20 for the whole weekend.
As a part of the French Truck Racing Championship series, six grand prizes are waiting for the racing teams, including the German Nürburgring. At the end of the season, the famous Le Mans circuit is on the menu as well.
Results - Le Castellet 2022:
Race 1:
1. Thomas Robineau (MAN) 25:18.565
2. Yorick Montagne (Renault) 8.749
3. Lionel Montagne (Renault) 9.725
4. Raphaël Sousa (Freightliner) 23.255
5. Lucas Rivals (Renault) 27.200
7. José Sousa (Renault) 55.367
14. Pierre-Yves James (Renault) 1:50.134
Race 2:
1 . Anthony Janiec (MAN) 17:30.915
2. José Rodrigues (MAN) 0.228
3. Lionel Montagne (Renault) 1.148
4. Raphaël Sousa (Freightliner) 3.785
5. Yorick Montagne (Renault) 4.139
7. Lucas Rivals (Renault) 15.458
9. José Sousa (Renault) 32.412
19. Pierre-Yves James (Renault) 1:41.365
1. Thomas Robineau (MAN) 23:12.559
2. Yorick Montagne (Renault) 0.318
3. Lionel Montagne (Renault) 1.203
4. Lucas Rivals (Renault) 27.773
5. Stéphane Languillat (Renault) 37.440
6. José Sousa (Renault) 43.909
16. Pierre-Yves James (Renault) 1 Tr / Lap
Race 4:
1. Lionel Montagne Renault) 21:57.590
2. Yorick Montagne (Renault) 7.581
3. José Sousa (Renault) 20.637
4. Raphaël Sousa (Freightliner) 22.012
5. Lucas Rivals (Renault) 28.180
13. Pierre-Yves James (Renault) 1 Tr / Lap
French Truck Championship 2022:
Grand Prix Camions du Castellet (23.-24. April)
Grand Prix Camions de Charade (4.- 5. June)
Grand Prix Camions de Nogaro (18.-19. June)
ADAC Truck-Grand-Prix Nurburgring (Germany ) (16. –17. July)
24 Heures Camions Le Mans (24.-25. September)
Renault pilots:
#14 - Pierre-Yves James (France) Team 14
#15 - Lucas Rivals (France) AMR – Albi Motor Racing
#22 - José Sousa (Portugal) Team VTR