The French Cup continued with two races in June
27.6.2022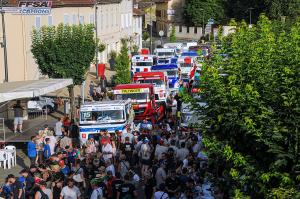 The French truck racing championship continued with two more races in June. After the opening weekend at the Paul Ricard circuit, Charade Grand Prix was awaiting for the pilots, followed by the Nogaro Grand Prix. This time, however, none of the pilots of the North Bohemian Renault climbed to the podium.
Three pilots in Renault Trucks from the workshop of MKR Technology designed by Mario Kress - Frenchmen Pierre-Yves James from Team 14 and Lucas Riwals from Albi Motor Racing and Portuguese José Sousa from Team VTR take part in the French cup.
At the beginning of June, the French Truck Racing Championship started on the e-circuit de Montagne Charade with the Charade Grand Prix. There the pilots of Kress' Renaults finished in fifth place at best. Lucas Rivals took fifth place twice, then José Souza took another fifth place. Pierre-Yves James closed the elite ten in the final fourth race.
After two weeks, the championship continued on the third race weekend on the legendary Paul Armagnac circuit with the Nogaro Grand Prix. Thanks to Lucas Rivals, the pilots got closer to the podium here. After sixth place in the opening race, the French Albi Motor Racing driver finished fourth. José Sousa was eighth and sixth in the last heat.
The overall standings of the championship after three race weekends are led by the Frenchman Thomas Robineau. Lucas Rivals is currently sixth, followed closely by the Portuguese pilot José Sousa. Pierre-Yves James is eighteenth.
Results - Grand Prix Camions de Charade
1. Thomas Robineau (MAN) 14:40.860
2. José Rodrigues (MAN) +1.497
3. Yorick Montagne (Renault) +11.592
4. Raphaël Sousa (Freightliner) +14.297
5. Lucas Rivals (Renault) +25.472
11. José Sousa (Renault) +1:02.903
15. Pierre-Yves James (Renault) +1:42.623
1. Rodrigues (MAN) +27:32.792
2. Thomas Robineau (MAN) +7.302
3. Raphaël Sousa (Freightliner) +9.733
4. Lionel Montagne (Renault) +10.233
5. Lucas Rivals (Renault) +24.853
6. José Sousa (Renault) +26.992
13. Pierre-Yves James (Renault) 1 Tr / Lap
1. José Rodrigues (MAN) 26:50.920
2. Thomas Robineau (MAN) +11.566
3. Raphaël Sousa (Freightliner) +16.076
4. Yorick Montagne (Renault) +47.724
5. José Sousa (Renault) +50.614
1. Yorick Montagne (Renault 57:08.916
2. Raphaël Sousa (Freightliner) +10.937
3. Aurélien Hergott (DAF) +19.717
4. Stéphane Languillat (Renault) +23.587
5. Patrick Chatelain (Iveco) +24.166
10. Pierre-Yves James (Renault) +1:15.469
Results – Nogaro 2022
1. Téo Calvet (Freightliner) +27:02.399
2. José Rodrigues (MAN) +0.998
3. Thomas Robineau (MAN) +5.166
4. Yorick Montagne (Renault) +12.096
5. Raphaël Sousa (Freightliner) +17.224
6. Lucas Rivals (Renault) +26.884
16. Pierre-Yves James (Renault) +1:08.928
1. José Rodrigues (MAN) 23:51.607
2. Lionel Montagne (Renault) +7.829
3. Thomas Robineau (MAN) +13.477
4. Lucas Rivals (Renault) +28.058
5. Anthony Robineau (MAN) +39.087
9. José Sousa (Renault) +50.595
13. Pierre-Yves James (Renault) +1:42.508
1. Téo Calvet (Freightliner) 23:36.447
2. José Rodrigues (MAN) +0.378
3. Thomas Robineau (MAN) +13.149
4. Raphaël Sousa (Freightliner) +15.960
5. Ivan Rodrigues (MAN) +27.728
8. José Sousa (Renault) +32.974
11. Lucas Rivals (Renault) +1:05.489
16. Pierre-Yves James (Renault) +1:32.399
1. Lionel Montagne (Renault) 23:42.564
2. Téo Calvet (Freightliner) +13.102
3. Thomas Robineau (MAN) +14.296
4. José Rodrigues (MAN) +14.661
5. Raphaël Sousa (Freightliner) +15.406
6. José Sousa (Renault) +29.408
8. Lucas Rivals (Renault) +36.711
16. Pierre-Yves James (Renault) +1:26.362
Overall standings after 3 Races:
1. Thomas Robineau (MAN) 134
2. José Rodrigues (MAN) 120.5
3. Yorick Montagne (Renault) 104
4. Raphaël Sousa (Freightliner) 103
5. Lionel Montagne (Renault) 94.5
6. Lucas Rivals (Renault) 71
7. José Sousa (Renault) 60
18. Pierre-Yves James (Renault) 18