The circuit truck racing season starts
24.4.2015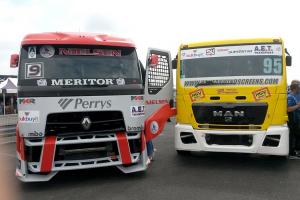 Contrary to the tradition of the past years, this year's European Truckracing Championship series started in Valencia. Following the departure of several car factories the Championship has reduced significantly. Neither the specials from our technology centre will start in the series, as there is a different schedule ahead of us.
"We ended our activities in truck racing two years ago. After that we lent our trucks to French and British pilots, whom we simultaneously provided technical and technological support. This year we decided to start only at the British and French Championships," commented our team's boss Mario Kress, who decided to focus his team team and the MKR Adventure project primarily on rallies, in order to succeed in the famous Dakar.
However, his racing specials continue to beat their opponents. Two of them are competing in the British Championship and three in the French Championship this year. In Britain one truck is being tamed by Ray Coleman, while Chris Levett's truck is driven by Stuart Oliver. In comparison, the French trophy features three machines from our Židovice technology centre with three pilots of the VTR team.
The British Championship started in Brands Hatch the second week in April. Following the opening weekend David Jenkins took the lead. Stuart Oliver had only a narrow miss of the winners' podium on fourth place. Ray Coleman is on seventh position in the first division. The next stop is planned in Pembrey for the penultimate May weekend. This year will feature nine racing weekends with the final one bringing back to the opening venue, Brands Hatch.