Kiss is the New Champion
21.10.2014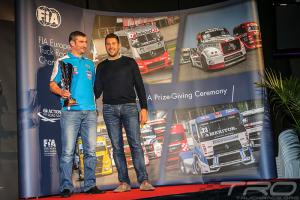 The fight is over! This year's European Truckracing Championship has finished. After three years Germany's Jochen Hahn had to yield the throne to Norbert Kiss from Hungary. The Portuguese pilots José Rodrigues and José Teodosio, taming trucks constructed in our workshop, finished behind the elite ten by only a narrow margin.
As tradition has it, the Championship series peaked at the world-famous Le Mans circuit in France. However, it had not been clear before the last weekend who would be taking home the European title with three candidates still in the game. The differences were so small that each of the Kiss, Hahn and Albacete trio stood a solid chance. Le Mans usually brings bad luck to the Spaniard Albacete and neither this year was any different. The former champion recorded the second worst weekend of the entire season, eventually dropping from second place to third. While Hahn gave a standard performance, the last round was exceptionally successful for Kiss, who confirmed his great shape, drive and luck and recorded the best score of the season. With fifty-three points he matched Albacete's 2014 maximum and became the Championship's golden pilot. Kiss did not leave anyone in doubt regarding his dominance, as he reached his premiere triumph with an 18-point margin over the silver Hahn from German.
The Portuguese duo José Rodrigues and José Teodosio had a successful season, in which they piloted trucks from our technology centre for the first time. In the end, the toughest fight took place between the pair from the Iberian peninsula themselves, as they occupied two successive ranks thanks to equally good performances. After the final event in Le Mans they even exchanged their positions. In the overall ranking José Rodrigues occupied position thirteen, with his fellow Portuguese Teodosio coming fourteenth with one point less.
ETRC 2014 – final ranking:
1. Norbert Kiss (HUN) 401
2. Jochen Hahn (GER) 383
3. Antonio Albacete (ESP) 377
4. Adam Lacko (CZE) 314
5. David Vršecký (CZE) 255
13. José Rodrigues (POR) 21
14. José Teodosio (POR) 20