French Championship Started At the Paul Ricard Circuit
13.6.2015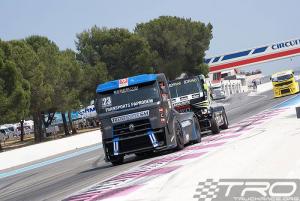 Last weekend, the Paul Ricard circuit saw the start of this year's French Truck Racing Championship series. Also pilots racing on the special from our technology centre jumped up the winners' podium.
The first weekend of the French Championship took place in Le Castellet in the south of France. The racing field included also trucks constructed by Mario Kress. In their cockpits were José Rodrigues (Team 14), José Teodosio and José Sousa (both Team VTR). The French Championship has a system and scoring similar to the European Championship. There are always two Saturday and two Sunday races planned for each weekend, with the second race rated with a half of the points. Right at the very beginning the pilots got very sweaty, indeed, with temperatures soaring over thirty.
The introductory race was ruled over by Anthony Janiec, a long-standing participant of the European Championship. José Rodrigues piloting a Renault from the MKR workshop finished on fifth. Janiec triumphed also in the second race and Rodrigues accompanied him to the podium to collect bronze medal. Rodrigues managed to improve his standing already on Sunday, when he took home silver from the opening race behind the victorious Thomas Robineau. Robineau added another win in fourth race on Thursday, as the Portuguese Renault pilot José Teodosio arrived on fourth right below the winners' podium.
This year's French Truck Racing Championship stretches over four racing weekends. It all began at the Castellet Grand Prix. Only two weeks later the schedule will take the pilot to Nogaro (20-21 June). Afterwards a three-month-long break will follow and the third episode is set to take place in Charade from 26 to 27 September. The entire "tour" will conclude on 10 and 11 October at the famous Le Mans circuit.